| Rookie Karts | Road Course | Bumper Boats | Two-Seat Kart |
| Sprint | Indy Kart | Mini Golf | Ride Specials |

---
Riders must be at least 48 inches tall to ride.

Take a spin for $5.00!
Back to Top
---
---
Crashing, splashing good time for riders 44 inches or taller!

Get wet for $5.00!
Back to Top
---
TWO-SEAT KART

What could be better than a kart made for two? Driver must be at least 18 years old. Passenger must be at least 36" tall.

Ride for only $5.00!
Back to Top
---
Need Speed? Drivers must be 58 inches tall!

Race for $5.00!
Back to Top
---
---

Click for larger image
MINI GOLF

Rather "putt" along instead of going fast? Check out our awesome Wild West Mini Golf!

Adults Tee off for $6.00!
Kids Ages 4-8 Swing for just $4.00!
Children 3 and under are free!
---
6 rides $27.50
12 rides $50.00
3 rides and Golf $19.00
---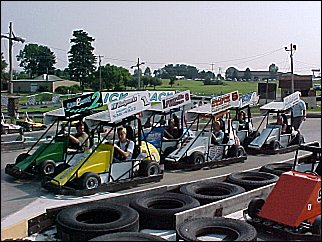 More Ways to Play!
Sprint Karts, Indy Karts, Rookie Track, Bumper Boats, Slick Track, Road Course, Kiddie Karts, 2-Seat Karts, Wild West Mini-Golf and Snack Bar!




© 2010 Eracers Go Kart Park
Art Work By Eric Stewart Logo Bros.